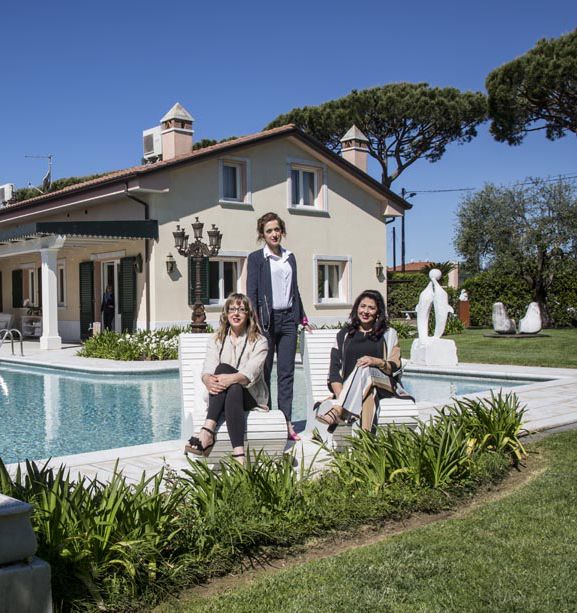 Zarri Real Estate Agency
Forte dei Marmi
Zarri Immobiliare is a historic real estate agency in Forte dei Marmi, specialized in residential and commercial tourist sales and rentals. Within the website, there are the best proposals on the market today, carefully selected by our staff.
On sale: 24
For rent: 42
Zarri Immobiliare, the future has strong roots
Forte dei Marmi has always known how to renew itself while conserving its roots intact. The same goes for Zarri Immobiliare, founded by Gianpaolo Zarri in 1972, later entrusted to Sonia and Cristina, and then also benefiting from the verve, the skills and the enterprising spirit of Cristina's daughter Natascia.
Three very clear-headed women: «We believe that every dream home is located at a point of intersection between needs and expetations» they say «These are different for each client and we work with empathy and enthusiasm to identify them. And our dedicated property finding service and consolidated information network lets us optimize search times and scour the entire market for the right buy, for anyone who wants to invest in Forte – and beyond. Targeted services, too, for selling or renting property: starting with a free-of-charge, realistic appraisal and continuing with efficacious marketing strategies and follow-up actions until conclusion of negotiations – calling in technical experts whenever necessary. A high-quality approach, made even more attractive, in the case of exclusive listings, by extremely advantegeous conditions and made-to-measure assistance.
Zarri Immobiliare, with its consolidated experience in intermediation, accompanies the customer with a complete service from negotiation to the final deed of sale. With seriousness and passion, the staff will support you in this path, coordinated with qualified and selected technicians who may become necessary to help you to conclude your real estate transaction with serenity and satisfaction.
Personalized marketing communication plan
Each property has specific characteristics that it is important to enhance: together with our staff you can identify them and decide how to highlight them. Sometimes these are small and simple tricks that however make the difference and can make your property more competitive on the real estate market.
360 degree consulting
Zarri Immobiliare offers comprehensive advice through the use of technical tools that allow you to evaluate the market in all its aspects. If necessary, our staff can offer you any kind of professionalism that is necessary to support you in all phases of sale and lease.
Home staging
The first impression is important: very often the initial impact that the house is able to communicate to the potential buyer is decisive, that is why it is so important to present the property in the best possible way and our staff will advise you on how to do it.
Sometimes it can take very little to make the difference between a grueling business and a transaction that satisfies everyone.
Property finding
Researching your dream house could be a more complex activity than you might think. The portals are certainly an important tool, but the offer of the portals does not cover all the chanches that actually exist on the market.
Relying on a qualified agency, thanks to its long presence in the area, could be the winning choice to achieve your goal while saving time and money.
After the notary
After the purchase of the house, Zarri Immobiliare can continue to provide its assistance, to assist the buyer in carrying out the necessary bureaucratic procedures: from the management of utilities to the transfer of contracts, our staff can continue to assist you so that there are not uncertainties. If requested, our agency can also provide you with the names of selected professionals who are necessary for the compliance control of the systems, able to intervene for repairs or adjustments according to the law.